If you are asking yourself this very question, you are not alone! The majority of medical professionals we speak to often find it very difficult to decide which course and training provider would be the best fit for them, especially when they have little or no knowledge of aesthetics. Unfortunately so many get it so very wrong!
Our Foundation Course is All you Need to Get Started
40% of our foundation level delegates have been to one, two or even three previous foundation courses before finally coming to us! The main reason being a lack of comprehensive initial training that leads to serious gaps in knowledge, hands-on experience and confidence in treating patients. Unfortunately, many often only realise their costly mistake after completing a course, or even worse... several of these courses!
There are so Many Training Academies Out There
Where do you even start when comparing all Dermal Filler and Botox Training course offerings available? What sets one academy apart from another? Who do you choose to invest your hard earned money with and what will you get in return? What are your goals and will the training provider support you to achieve these? The last thing you want is to end up spending hundreds or even thousands of pounds only to be left not feeling confident, safe or supported practising the very treatments you set out to master. Here's where to start with Dermal Filler and Botox Training, by asking the right questions to ensure you are informed to make the right choice for you.
Here are some important questions you should be asking when choosing an aesthetics course;
Is the course length sufficient to teach you ALL of the treatments being taught comprehensively and safely?
Who will be teaching the course? What is their clinical aesthetics experience?
Is there any comprehensive pre-course learning material provided? E-learning portal with treatment demonstration videos?
What treatments will be taught on the course and will you get enough hands-on practice on ALL of these areas to be confident?
Will too many treatment areas be taught on the same day? This can leave you with very little hands-on injecting experience of each area leading to poor confidence and overwhelm.
Will the course teach you the most up-to-date techniques?
Will the course teach you bespoke facial analysis and treatment, rather than the standard cookie cutter treating every patient the same approach?
How many patients will you treat? How much treatment will you do on each patient?
Will you treat live patients from start to finish or will you have to share models, doing little bits on each and not get experience treating whole cases?
Will you take your patients through the whole treatment journey?
Is there any after course support and what does this consist of? Is it included or do you have to pay additionally for it?
Is there any after course treatment planning and question support?
Will complication management be taught comprehensively?
What happens if something goes wrong? Will there be someone to assist you immediately? Many training providers claim to provide free support but are nowhere to be seen when you need them the most!
Where is the course being held? Is the course set in an appropriate clinical space to treat patients or is it being held in an unsuitable conference room or hotel?
Will the course allow you to spread the cost in manageable interest free instalments?
Is there any marketing and business support included?
All of our award winning Avanti courses include;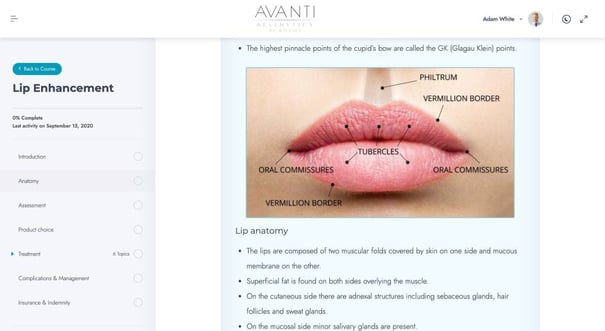 State of the art university standard Avanti e-learning platform and app tailored to suit the learning needs of our delegates. Includes treatment demonstration videos and interactive quizzes
No teaching of botulinum toxin and dermal filler treatments on the same day, compromising the depth of teaching of both
1 on 1 supervision with an expert trainer whilst injecting for guidance, support and essential tips and tricks
Training takes place in our permanent clinical facility on Harley Street
Taking your patients through the entire patient journey from photos, consultation, analysis & marking, preparation of materials, FULL treatment, to post-op instructions (as you would in your own clinic)
Watching other delegates treat their patients to further integrate knowledge and skills
Treating whole patient cases from start to finish (not just 1 or 2 injection points) giving you confidence to treat whole patient cases
Treat as many additional patients as you like with our model add-on blocks
Run your own clinic day, treating patients at the Avanti Academy Clinic
No sharing of models with other delegates compromising hands-on experience and confidence
No charge for any of our after course support methods
Free access to private online support groups for only Avanti delegates
Free post-course treatment planning assistance
Free post-course "No question is silly" answering of any questions
Free insurance set-up assistance
Free product and consumable purchase assistance
Free aesthetic pharmacy account opening assistance to order products
Free valuable business advice on setting up a mobile practice or clinic and employment opportunities to help you get started immediately.
Free marketing and social media advice
Free access to the Avanti Complications Emergency Telephone Hotline and complications support

Let Us Help You Make an Informed Decision
When you contact us at Avanti, we will take the time to provide you with all the information you need before embarking on your first steps. We believe it is imperative that you are fully informed before making the single most important decision that will shape your aesthetics career. We will even actively advise you to have a look at all the other courses in the market so you can fully appreciate how unique our offering is to maximise knowledge, confidence and success. We don't believe in pushy sales tactics, as for us it is just as important for you to be a right fit for us, as it is for us to be the right fit for you.
At the Avanti Aesthetics Academy we don't just teach aesthetics, we develop the top 10% of aesthetics practitioners in the UK and Ireland. We are only looking to work with motivated medical professionals that want to invest in the highest quality training and themselves, to truly excel in aesthetics.
Completely New to Aesthetics?
Start with the most comprehensive and hands-on foundation training possible with our Avanti Foundation Training. On this course we will teach you how to assess and treat patients with botulinum toxin and dermal fillers using our unique full-face approach. The market is full of practitioners who have poor knowledge and technical skills who have attended low cost, poor quality training. Allow us to develop you into a confident and successful practitioner that stands out from the competition. Our Avanti Foundation Training can be completed on its own or as part of The Complete Aesthetics Practitioner Programme, our tried and tested pathway that takes you from being a complete beginner to expert level over an appropriate time frame.
During the current Covid-19 lockdown we are still taking bookings for courses so delegates are able to start learning immediately! Although practical training sessions are currently suspended, now is the best opportunity for you to start your comprehensive e-learning and be offered the first choice of the earliest available practical training dates once the lockdown is lifted.
Any further questions? Don't hesitate to book a no obligation call with Julie our Academy Coordinator who will be happy to answer any questions you may have.