"As someone who has attended the Avanti Aesthetics Academy Foundation on their Botulinum Toxin Course. I was very excited to start a new area for me and I'd heard some fab things about the course so I thought it would be nice if I shared my experience with others..."
My Expectations
I had heard lots about the Avanti Aesthetics Academy Course before I started my course and all the feedback I received was positive. A close friend had recently been on the course, she stayed with me for the weekend of the course and it seemed like a very intense few days.
I was also familiar with courses available from other providers which had varying training programmes. One of the reasons why I hadn't already pursued one of these aesthetics courses before was confusion about what I wanted to get out of an aesthetics course, especially since a lot of my day to day dental practice is limited to purely NHS work.
Previously, I had provided Botulinum Toxin injections in an oral surgery NHS department treating myofascial TMJ and Frey's syndrome and I mostly just observed and assisted in the procedure as a junior and therefore my perception of using toxin was a little scary as we were often injecting very deep in tissues (e.g. into the body of the masseter).
Who are Avanti Aesthetics Academy?
The Avanti Aesthetics Training Academy trains doctors, dentists and medical nurses in non surgical aesthetic treatments. The training is provided by the fabulous Dr Rikin Parekh and his team of trainers. The academy has recently introduced a 3 day Foundation training course ' which covers 5 key subject areas of aesthetic training giving a whole face holistic approach:
Upper Face Botulinum Toxin
Lower Face Botulinum Toxin
Cheek Augmentation
Nasolabial Folds/Marionette Lines
Lip Augmentation
As soon as I received my booking confirmation for this course I was given access to their private e-learning platform where I was able to learn theoretical knowledge through their comprehensive evidence based modules. They also provided step by step video treatment guides and interactive quizzes.
How was the first day?
The first day of the practical training was Botulinum Toxin upper face and lower face. The trainer used a live model which I was very impressed with, to do his demonstration. I didn't realise that Botox is actually a term which the majority of people use and is a brand name for the protein Botulinum Toxin.
The trainer recommended using the UK leader in the field, Azzalure. We then went into more detail learning about the practical application of toxin in the upper face indications as well as cautions e.g. heavy eyebrows or compensation from the frontalis. We treated all the mid-face, lower face and neck botulinum toxin indications along with the treatment of axillary hyperhidrosis (excessive underarm sweating). The indications of bruxism/clenching, gummy smile and perioral wrinkles are particularly important for dentists to master to compliment their dentistry
What I loved was that each delegate had their own model to inject and we didn't have to share at any stage! Some of these models were regulars to the academy and knew exactly what they wanted down to the exact dose! For others it was their first treatment with toxin. My model was the only male of the group and it was his first treatment. I really enjoyed the practical element. Once you got over the initial trepidation of injecting extra-orally for a change, by the time you got round to the last dose it came naturally.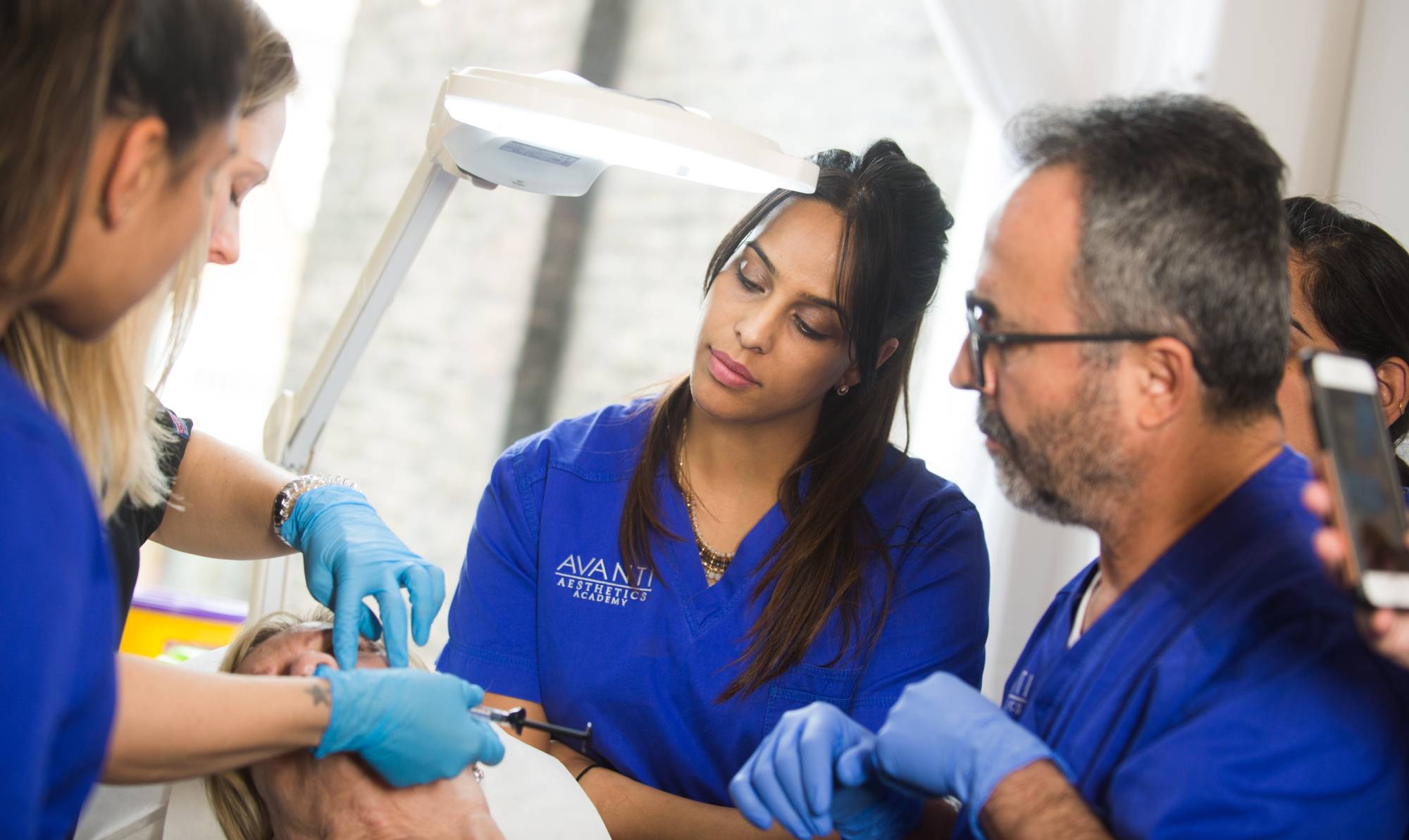 It was useful to observe the analysis for each of the other delegate's models also so you could analyse each individual to their specific injection sites and doses. We also had a practise on each other (injecting only saline of course!) so we knew what it felt like. I was expecting it to have a similar feeling to local anaesthetic injection, but it was nothing in comparison!

After the first day, the second and third day certainly lived up to my expectations
Day 2 consisted of the Dermal Filler Mid & Lower Face Rejuvenation sessions of the course, which included both Cheek Augmentation & Nasolabial Folds/Marionette Lines. We were shown that line softening are the first steps in restoring the ageing face and cheek augmentation also plays a major role in female facial beautification and male facial masculinisation in younger patients.
I was really looking forward to the lip enhancement day as this is my favourite area, although I have heard a lot of bad press involving incorrectly placed filler and a disregard of natural anatomy, proportions and harmony and this is not the type of practitioner I want to be! Again I wasn't disappointed. I was taught the fine art and science of lip enhancement, that will allow me to create bespoke, beautiful, more natural looking lips that I know my patient's deserve.

What I learnt
The course was an intense learning experience and not only did I learn lots of clinical and theoretical skills, I was also taught the business opportunities surrounding facial aesthetics.
This was something that I found particularly useful as most of my clinical work wouldn't allow for me to offer any of the skills I had just learnt; however, facial aesthetics can open up a flexible and fulfilling business alongside my day to day profession. With the use of clever marketing including social media, I have already seen some clinicians thrive with this style of working and it would be interesting to pursue this approach myself.
"Many thanks to Rikin and the Avanti Aesthetics team for a fantastic day! I would definitely recommend the course to anyone who wants to explore other options in dentistry."
For more information on our courses and how they run, please download our guide below: